MICROMAX
Micromax is surely one of the most-talked about cell phone (though may not be the most sold), after the company launched a handset that it claims could run without charging for 30 days straight. They now have two models in the same category – X1i and the X1u.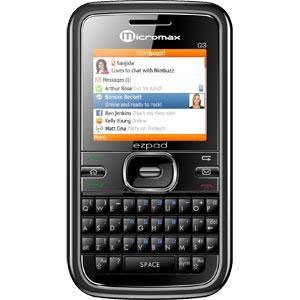 Micromax's mobile lineup also has a new dual SIM phone, Micromax X250. Priced at Rs 3,500, the phone has a colour screen, Bluetooth and FM.
The Micromax Q3 is a Blackberry-look-alike. Boasting of almost similar specs, the phone is available at a price tag of only Rs 4,900.
In the smart phones category, the company's models include GC700, which is priced at 14,800. GC700 is a Dual Mode CDMA/GSM touchscreen phone with motion sensing technology. It has a 2MP camera and a touchscreen display, a multi-format music player, video recorder/player, large PHB/SMS memory with photoCall and a preloaded Opera mini Web browser.
While most of the Qwerty keyboard handsets in the Indian market cost more than Rs 10,000, Micromax has a model with Qwerty keyboard for just Rs 4,500.
According to a research firm, of the 24.1 million handset market of India, the 800-crore company secured a 6 per cent share, ahead of LG, which managed just 4 per cent.
INTEX
The leading Desi manufacturer of computer peripherals Intex too boasts of an impressive range of mobile phones. Delhi-based Intex has both dual-sim and multimedia phones in its line-up.
Most Intex phones are claimed to be lightweight, and boasts of features like water resistance, 45 days standby battery life, touch screen, 5 LED Torch, MSN Messenger Live and mobile tracker for security.
The company's dual sim lineup includes, Intex IN 3080 (GSM-GSM), Intex IN 3070 Intex IN 4488 (GSM-GSM), Intex IN 4455 (GSM- GSM) and Intex IN 5050 (GSM-CDMA).
In terms of pricing, Intex's mobile range is spread across Rs 2000 to Rs 8000.
KARBONN
Just nine-months old, Karbonn Mobiles has made an impressive beginning for itself, having sold a sizeable number of handsets.
Kabonn currently has over 25 models with specs like touchscreen, dual SIM, and multimedia. The company's dual-SIM range include Karbonn K 445, which boasts of a browser and a music player. Some other dual SIM phones are K 460, K 443, K 447and K 770.
A joint venture between Delhi-based Jaina Group and Bangalore-based UTL Group, the company plans to open 5-10 exclusive Karbonn stores across India's major states by the end of this financial year.
ONIDA
The well-known electronic appliance manufacturer too baosts of a mobile phone line-up in its portfolio.
The company's popular F series range comes with features like Bluetooth (A2DP), camera, FM/MP3/video player, expandable memory up to 2 GB, email and TFT display.
Most phones of Onida are dual SIM memory and pricing starts at Rs 1,700.
Newer models include V-series in the low-end and i-series in the high-end
VIDEOCON
One of the biggest electronics manufacturer in India, Videocon too made its entry in the mobile handset market last year. The company which so far has prsence in southern and western parts of the country plans to go all-India soon.
The company's portfolio includes 12 models priced between Rs 1,400 to Rs 15,000.
Videocon's V 1750 is a dual-SIM touchscreen phone. While V 1760 is a dual-SIM music phone.
Videocon's latest range includes V 1604, a Windows phone. The 3G multimedia phone offers GPRS connectivity, 2 Mp camera, bluetooth, motion sensor, mobile tracker and a music player. V 1604 is priced at Rs 5,500.
SPICE
One of the very first Desi phone brands, Spice Mobile also happens to be the pioneer of dual-SIM phones in India.
Spice D 6666, a full multimedia phone, supports both CDMA and GSM cards. Spice D 1111 is a touchscreen phone , Windows 6.0 OS.
Spice's latest is a slider phone S 950, priced at Rs 9000.
Spice Mobile phones are available at a starting price of Rs 1,900.